Chicago Marathon
In 1952 a Czech runner, Emil Zatopek, won three gold medals at the summer Olympics in Helsinki. He'd already established new Olympic records in the 5,000 and 10,000 meters when he decided, at the last minute, to enter the marathon -- a race he'd never run before. Not only did he win the gold, he set his third Olympic record.
Zatopek is often quoted as saying "
If you want to run, run a mile. If you want to experience life, run a marathon
."
I ran my 2nd marathon yesterday, the Chicago marathon. Along with New York, Boston, London, and Berlin it is considered one of the world's 5 "major" marathons, so it is quite an event. There are about 40,000 runners, 1.5 million fans, and something like 10,000 volunteers.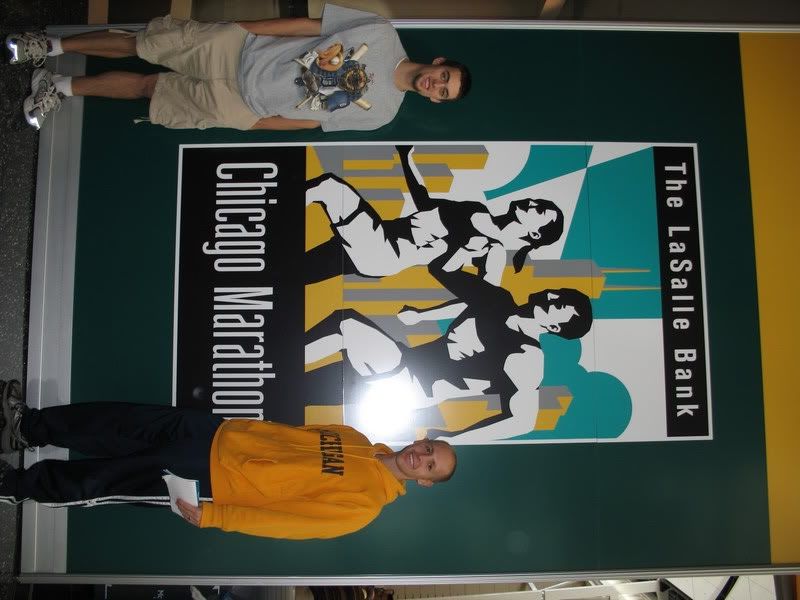 This year I was pretty excited about my training and had high hopes to finish in under 4 hours. I'll spare you the suspense and just say that it wasn't meant to be. The race started off great for me as my body felt extremely good for the first 8 miles. I ran hard and fed off the numerous fans that cheered specifically for me (I'll explain below). I was running at about 8:30 min/mi until around mile 10 when my body started telling me that I couldn't keep that pace for long. So I backed off to closer to 9:00 min/mi until about mile 14 but my body was still not happy.
From mile 14 to 18 I kept slowing down more and walking longer through the aid stations in hope of finding a maintainable speed but I just couldn't keep it up. I really started dying at mile 18 and walked more frequently. Mile 22 took me almost 14 minutes, including having to stop and stretch for a minute. About that time Jason caught up to me and we struggled through the next couple of miles together as we both were hurting. Finally, at mile 25 I started picking up speed again and with 1/2 a mile left I used my adrenaline rush to sprint as hard as I could to the finish. Despite my 12 miles of struggles I'm a much better runner than last year and I was able to beat my 2005 Detroit Marathon time by 2:35 for a final of 4:18:56. To give you a better picture of how hard I dropped off here are my 5k split times.
1st 5k...28:45
2nd 5k...26:38
3rd 5k...26:43
4th 5k...28:09
5th 5k...29:10
6th 5k...31:44
7th 5k...36:29
8th 5k...38:02
All I could think about for the last 8 miles was just getting to the finish line. I pretty much ran with my head down and tried to focus through it. I don't know exactly why I didn't have the energy this time because my legs felt normal and I didn't have breathing or stomach problems. I was just sapped of energy and so my body wanted to shut down. Fortunately I made it through the finish line before my body really crashed.
However, shortly after finishing I did crash. For about 15 minutes I felt as bad as I ever have during or after a run (or ever for that matter). I felt like collapsing and I shivered uncontrollably. This is about how I felt at my lowest moment: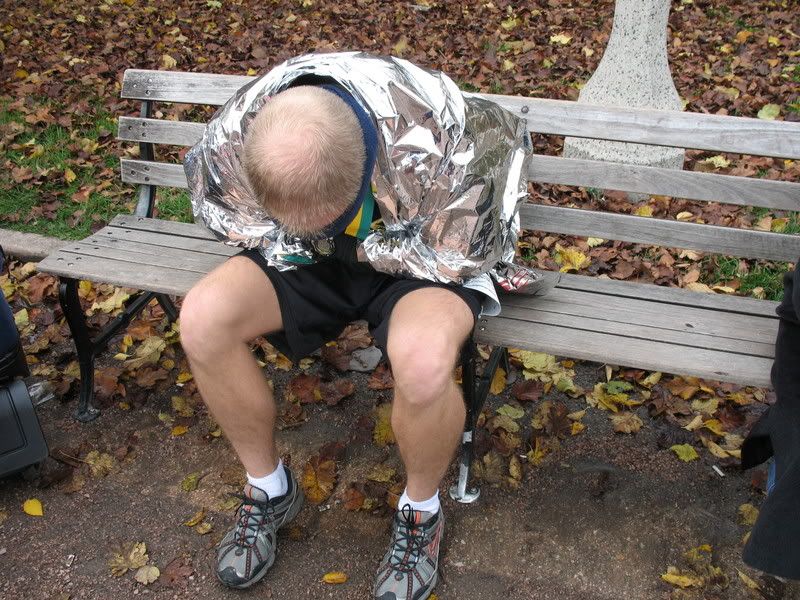 I was lucky to have Erin take care of me afterward. She found some warm covering for me and brought me to a bench so I could curl up and put my head down.
To clarify why fans were specifically cheering for me take a look at what I was wearing:
Wearing this phrase in the Midwest draws lots of responses. Well over a 1,000 people shouted "go blue, " to which I would normally respond back with a fist pump and a "go blue." What I didn't anticipate was about 25% of my cheers were "You're my boy Blue" referencing a line from Old School. I also got plenty of anti-Michigan cheers like "go Irish", "go Illinois", "go bucks", "go buckeyes", "go white", "go state", and "go Iowa." I even got my intended "GO BLUE" response from a group of guys on the 5th floor of an apartment building, a guy with a bull horn, 2 DJs on microphones playing music alongside the course, and the MC of the New Balance tent at the 1/2 marathon point. After about mile 18, however, I didn't feel like responding back and usually didn't.
Overall, I was very happy to run the Chicago marathon. It was a really fun weekend because my parents were able to come and with Erin, Cheri, Melissa, the Schaafs, the Hoolsemas, and the Bos's we had a great cheering section. They were positioned throughout the course so that us runners saw them all about 3 times. It is definitely a big help to have friends and family there to cheer us on.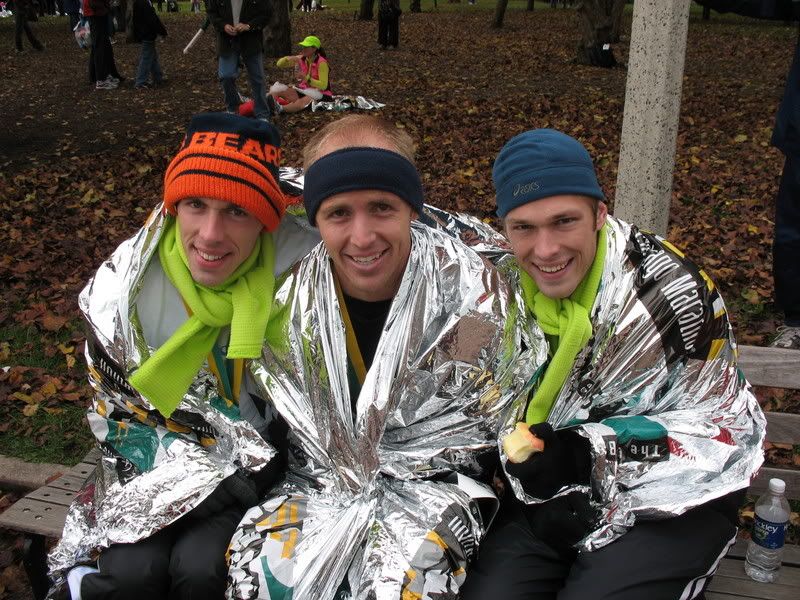 The weather held out for us and it didn't rain at all. The temperature stayed around 40 for the whole race and there was a steady breeze but no 40 mph gusts as predicted. Jason finished with me and Darren had an excellent first marathon finishing in 4:10. Jeff and Dick Hoolsema battled injuries during the 4 months of training but both still managed to finish in about 4:41. My friend Lisa from church also ran a great race, finishing in 4:18 and remarkably ran almost the exact same pace the whole way. I passed her sometime early on and she passed me back up towards the end but we never saw eachother because there were so many thousands of other runners. Darren also passed me towards the end and had no idea.