Winter Weekend
On Friday I went on my first cadet camp-out in 11 years. It was a fun night with the boys that included capture the flag in the dark and 16" of snow and a fire building contest. We also hung out inside and played games.
Unfortunately, a huge blizzard hit Saturday morning with temperatures around 10, 30 mph winds, and a barrage of snow so we cut our camp-out a little short and headed back to church. The 30 miles back to church were definitely the worst driving conditions I've ever experienced. For the first 10 miles we were on country roads with no tree blocks so there were many moments of complete white-out where I couldn't see the road in front of me. Those were scary moments as I was driving a van full of cadets. Thankfully we made it back safe and sound.
Here is a picture of the house across the street from me. Just a couple hundred feet away and you can hardly see it from all the snow. Storms that big don't happen very often in GR.
I had planned on joining Jason, Darren, and Evan up at the cottage after the cadet camp-out but told them there was no way I was coming up. Instead, they drove back and we had our annual winter cottage weekend in Kentwood.
What started out as a crazy idea turned into a great new sport...and tubing practice in the off season. Darren wanted to take advantage of the rare ultra-snowy conditions by going sledding behind a car! So we found an empty parking lot and tried out our new sport. It was awesome!
This picture shows it all: Jason hanging his head out the window so he could see where he was driving, the back gate open for the spotter, and a good refection of how ridiculous the weather was - driving wind, heavy snow, bitterly cold, supersledding.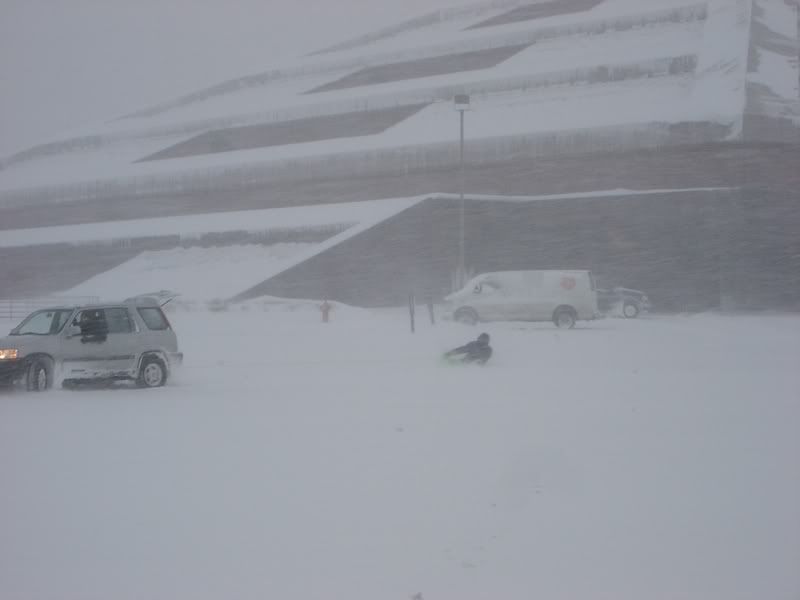 Check out this video of Evan, including barrel rolls.
Later we turned to neighborhood supersledding so that we could whip Captain Enthusiasm (Darren) into snow banks at 20 mph. Darren was addicted, and one of his rides lasted 3.5 miles.
The rest of the night included DDR, Settlers of Catan, Poker, and lots of fun.