Livin' Large in LA
Erin and I had a fantastic 3 day weekend visiting my uncle Hal in Los Angeles. We got there on Thursday night and took a walking tour of his neighborhood. The landscaping, and the climate partly too, remind me of Singapore. Spectacular, at least in his area. There were some really nice homes and all of their yards were beautiful.
On Friday morning I did my "big city 10 mile run" but made it 12.5 in preparation for the marathon. I ran from Hal's apartment about 5 miles to downtown LA. It was a perfect morning I love running through downtowns. From there I headed north in the general direction of Dodger Stadium. I say general direction because my intent was to run to the stadium, but none of the roads near it seemed to go to it. Dodger stadium is way up on a hill and as I got closer all I could see was a very steep dirt hill all the way around it (at least from my obviously incorrect location). So I debated about whether to just turn around and run back or make the dangerous climb up the hill. I decided I wouldn't have that many more chances in my life to run up to Dodger stadium so up the hill I went. It must have been comical seeing a sweaty runner scale the steep hill on all 4's. Halfway up the hill I reached a stadium entrance road that was gated off. Not only was it gated off, but I stumbled out of the brush about 30 feet away from a cop on a motorcycle that seemed to be guarding the entrance. I just stood there as the cop had his back turned to me and about a minute later he drove away. So on I went up the rest of the hill, prickers and all, and finally made it to the parking lot. It was totally worth it because the view from there was awesome and I got a close-up look at the stadium. Plus, I found a sprinkler that was on and got a much needed drink.
Later on Friday Hal, Erin, Erin's friend Berniz, and I hiked through the hills surrounding Hollywood. There were some sweet views of the Hollywood sign and of downtown LA. Unfortunately there were fires in the area and the air was about as "smoggy" as Hal has ever seen it.
On Fridy night we went to the taping of Love Inc., a UPN sitcom about a dating service. The show was actually pretty good and the taping was fun. Plus, it turned out that one of my favorite TV characters, Neil Flynn (the Janitor from SCRUBS), was the guest star. Later that evening, we told one of Hal's friends about who was in the show and it turned out that he is friends with Neil Flynn from Second City in Chicago.
On Saturday we headed down to Dana Point, just south of Laguna Beach for some surf lessons. Erin and I had a great time learning how to surf in some small but hard enough waves. I got up a number of times for varying lengths of time but definitely don't have it mastered just yet. Erin decided she liked the one foot one knee method much better and got pretty good at that. After surfing we headed up to Laguna for the afternoon. It is a beautiful beach.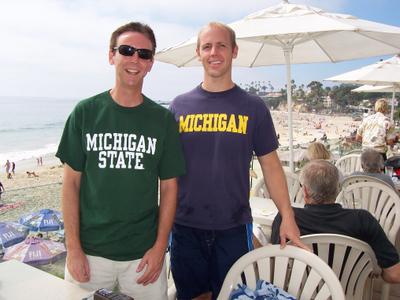 Saturday evening we went to see some improv in Hollywood. During the show Erin snuck out to go to the bathroom and when she came back she was overly excited saying "the Janitor from SCRUBS is out by the bar!" So when the show ended we went out there and sure enough, there he was. So we had Hal's friend introduce us and we got this sweet picture.
The other famous person at the Improv place was Andy Dick. But he was definitely drunk and likely on drugs and making a complete fool of himself. You can see his head behind Erin in this picture.
The we strolled down Hollywood Blvd. and 'saw the stars.' This is my favorite 'star.'
On Sunday we saw Venice beach and then went to Hal's friend Larry's sweet house. Larry is the brother/neighbor of Jim on ABC's According to Jim. His house is way up on a hill overlooking Long Beach. We played some water basketball and sat in the hot tub to finish a great weekend. Thanks Hal!!